We live in one of the suburbs severely affected by these floods but we have been so very lucky. Our house and property have not been touched by water at all. The only loss we have suffered is a fridge full of food, such a small loss in the scheme of things. We are surrounded by people in our street and neighbouring streets who have lost so much. We have spent the last couple of days helping those of our friends who need help, cleaning mud, removing destroyed belongings and just keeping up spirits.
When the waters started rising back on Tuesday we decided to evacuate our house rather than risk being stranded without power and possibly water. We were so generously taken in by our friends Georgie and Craig, and I am sure this has been the best part of the school holidays for the kids! Ironic really. We spent a couple of anxious days watching the news and being updated by friends and neighbours still in the area as to the water levels and how our house was faring. The best news I have ever received arrived by text from our neighbour early on Thursday morning, simply saying no water has reached our house.
We decided then to make our way over and help those who needed it. What we saw as we came back over the Indooroopilly bridge was amazing and surreal at the same time. I have to say that despite all I have seen I don't think it has really sunk in yet. So much water, just so much water and now the stench and the mud. We took the kids with us on today to help with some cleaning and to get them to understand how lucky we were and how much others need our help now. The water had dropped significantly but it is still so surreal. I made sure to take some photos on Thursday and these follow.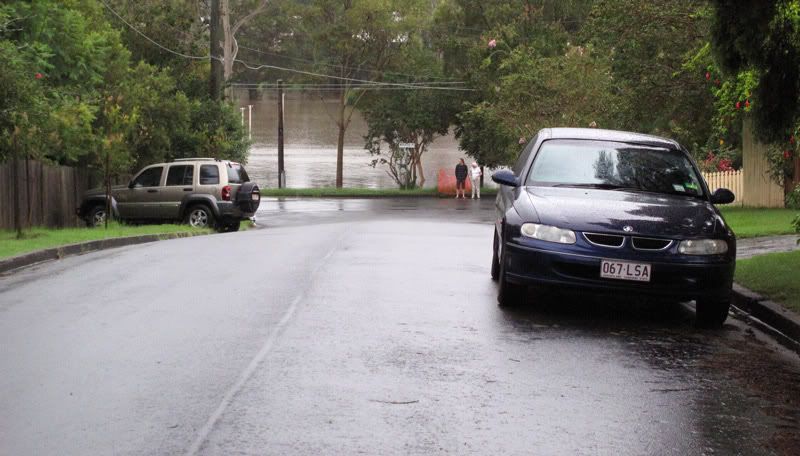 This is looking down towards the netball courts on Tuesday afternoon about 6pm. This is about one house away from our house, but gives a little idea of how much higher we are than the street behind.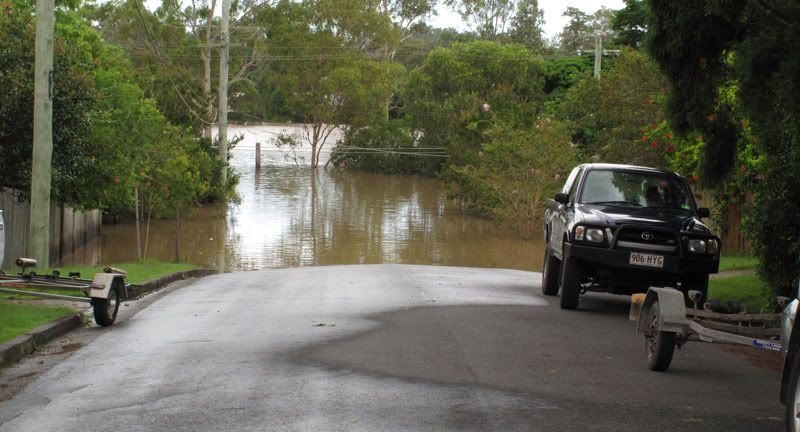 This is the same view Thursday morning (water had already dropped about a foot or two). The driveway to the left is higher than the one in the above photo that has the four wheel drive parked in it. That driveway is under water in this photo. Many boats were launched from here during the day.
This is one end of our street. To the left is the kids school. This was a boat launching area.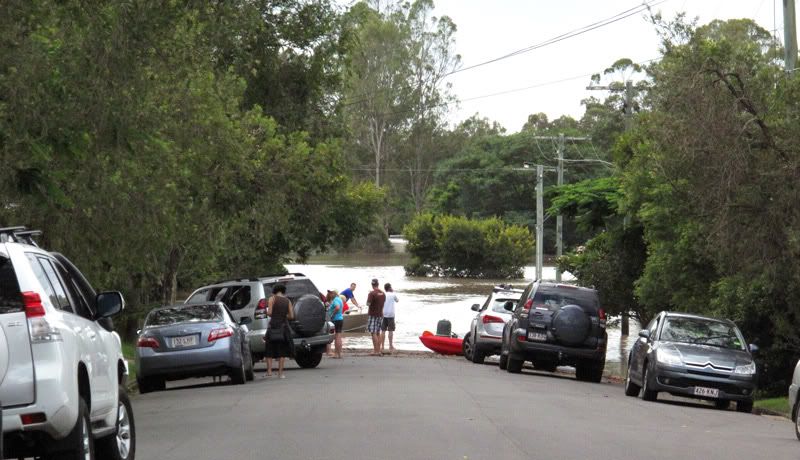 This is looking down the other end of our street. Below where the water is are at least three houses that were unable to be accessed. This was also another boat launching area.
This is looking down Oxley Road towards Indooroopilly. The street to the right with the sign just visible is Leybourne Street. Boats were being launched from here also.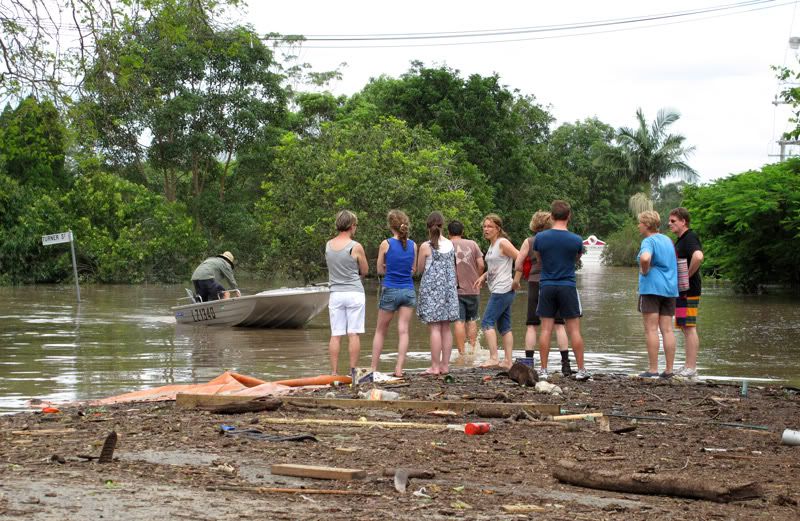 This is down the end of Richardson Street, looking toward the carpark entrance to the Netball Clubs building, to the left is Turner Street. Again, more boats.
So, that is our lives for the past few days. Full of anxiety and turmoil, but in the end of it great relief. Especially given all the devastation that we have seen around us. We are now spending our time helping our friends and neighbours and even those who we don't even know.
And that smell that they keep talking about, believe me, it is in a category all of its own. Something you need to smell to appreciate, a mixture of rotting vegetation, mud, and even a fishiness it is a stench of its own.
Ok, that is me signing off for now.
Take care, Katie