Wow, I think this is my third post this week! Pretty amazing. But I am sure it won't last! A few things to share. My youngest, Liam, lost his first tooth this week. It came as a bit of a shock to me, as I only discovered he had a loose tooth about a week or two ago! As you can see by the grin, he thinks the whole thing was pretty cool!
My sister in law gave birth on Friday 5th November to her second child. My brother is now the proud dad of two little girls. We can't wait to meet little Alice so rest assured there will be photos soon! I have also been the lucky recipient of a cherry on top award. This came from the lovely Michelle. Thanks Michelle!
The rules are: 1. Thank the person that gave it to you. (see above) 2. Post it with pride on your blog. 3. List 3 things you love about yourself. Three things that I love about myself - well - I am generous, have a slightly wacky sense of humour and I am fiercely loyal. 4. Post a picture you love. Well, I have a lot of pictures that I simply love for many reasons, but I think this one is one of my favourites. I love this one for the memories it holds and the people who are in it. Not to mention it is simply hilarious too!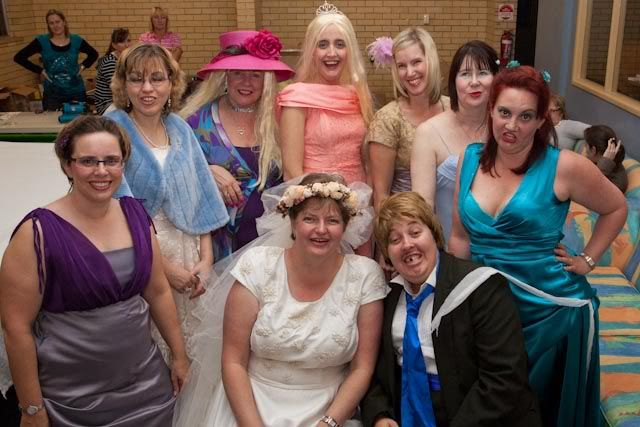 5. Tag 5 other people for the award. 1. Anne P - http://scraptastic-stuff.blogspot.com/ 2. Rita - http://budtobloomcreations.blogspot.com/ 3. Sandra - http://buttonsandbowsandmore.blogspot.com/ 4. Ronnie - http://ronniedoll.blogspot.com/ 5. Nicole - http://nicole-paperharvest.blogspot.com/ So thanks again Michelle! These kind of things are always good to make you think a little! I have done some scrapping too! Can you believe it?? I have just completed the November challenge for
Out of the Hat
. This month the criteria is: 1. Corrugated Card 2. Painted Background 3. String My result is this:
I have white washed the background paper to tone it down and added paint in for the journalling spot and used it with a mask. The corrugated card I cut into scallops which I then wrapped the string around. I also used my fabulous new around the page punch from Martha Stewart! While on a roll at my desk I did this one too. This has some of my favourite photos of Liam it it too. We were playing with his "invisible writing pen" and a slow shutter speed, I love the fact that his arms were so fast too that you can't see them!! It makes me laugh!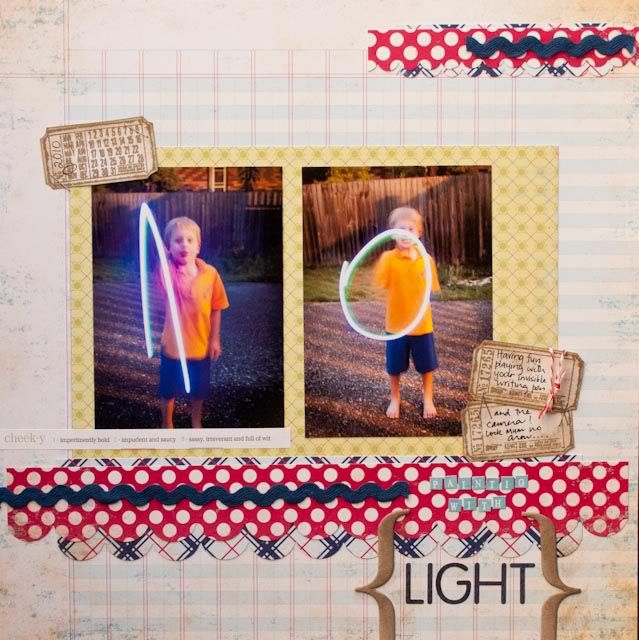 And lastly I am going to finish with a photo of Erin. Caught yesterday after she had finished eating a vegemite sandwich for lunch. How an almost 10 year old can still wear so much of her food I don't understand, but it makes me laugh! I can also see just how grown up she is starting to look too.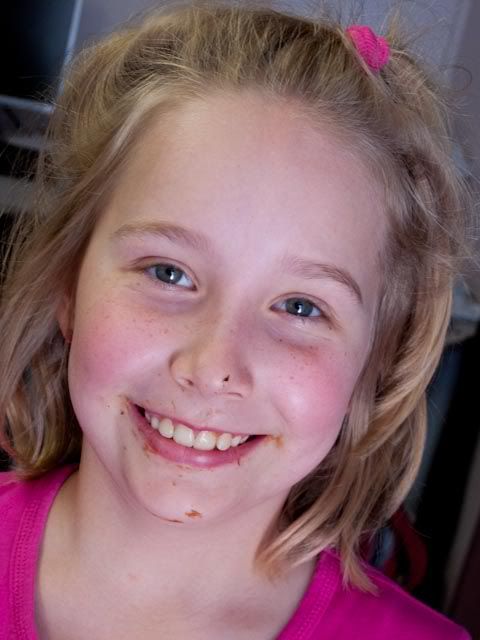 Till next time!