Well, so far these holidays have been great! I have had a little time to do some scrapping and I feel good.... I have completed the
Kraft It Up April challenge
, which was a recipe of sorts:
APRIL'S CHALLENGE....
Is a 1, 2, 3, 4, 5 challenge, you must create a layout based on the following...

1 piece of Kraft cardstock
2 photos smaller than 6x4
4 different patterned papers
(yes you can use the reverse side of one sheet as long as the pattern is di
fferent)
5 different embellishments
So I got to it and created! This is what I finished up with...
So, Kraft is obvious, my photos are 3.5x5.5 my favourite size to scrap at the moment too :) , 3 different alphas, 4 different patterned papers, and 5 embellishments 1. crocheted doily, 2. Twine flower, 3. Brads, 4. Punched butterfly, 5. Tab phew, all there!
So what do think of my twine flower? I made this myself and even the button on the top too!! Pretty cool. I really enjoy making my own bits and pieces.
So the next layout is for the Scrap the Boys April challenge which is this:
APRIL CHALLENGE

THE CHALLENGE IS TO GET INSPIRED BY AN OUTFIT THAT YOUR SON OR HUSBAND WEARS TO CREATE A LAYOUT...

** You need to use the photo of the outfit (obviously being worn by your son or hubby) inspiration could be the colours, patterns, textures etc...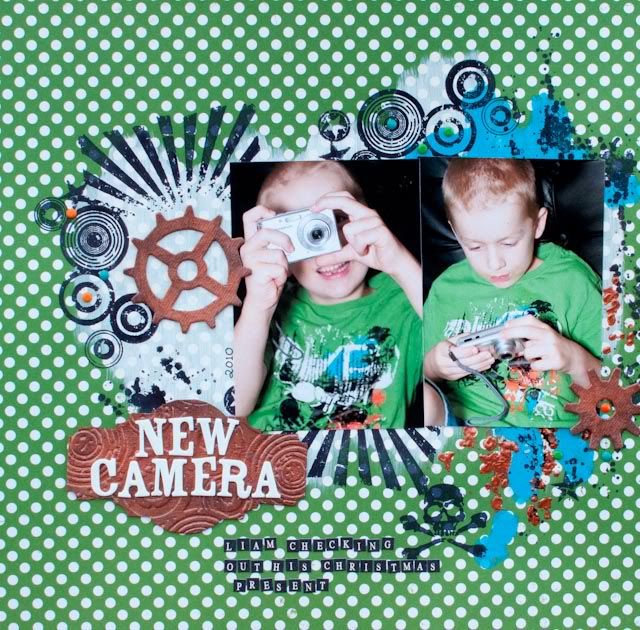 So, I was really inspired by the grungy pattern on this shirt of Liam's and thought it would be fun to create a background similar and use the same sorts of colours. I really enjoyed the "arty" side of creating this background.
The funniest thing was when I went back to the Scrap the Boys site after I had finished and had a look through the work and found that Ebony's sample has her boy wearing the same shirt!!! What a cool shirt it is!!!
So there is paint, and dimensional metallic paint and ink and stamping and die-cutting and grunging all sorts of fun and yes my hands were pretty dirty after I finished!!
So that is all for now. I am hoping to finish another challenge or two before the month is out. But who knows, time just keeps slipping away this month.
Til next time!
Katie