Just a quick pop in with a couple of new pages! One is for the February
Kraft It Up
challenge blog. This was a simple colour combo with Kraft of course, this month.
I played with a mixture of papers that I had lying around, including Crate Paper, MME and October Afternoon. And I finally scrapped some photos from our Stanthorpe get away back in 2008. Wow that feels so long ago now. I also did a bit of inking and misting that seems to be a favourite "add in" at the moment!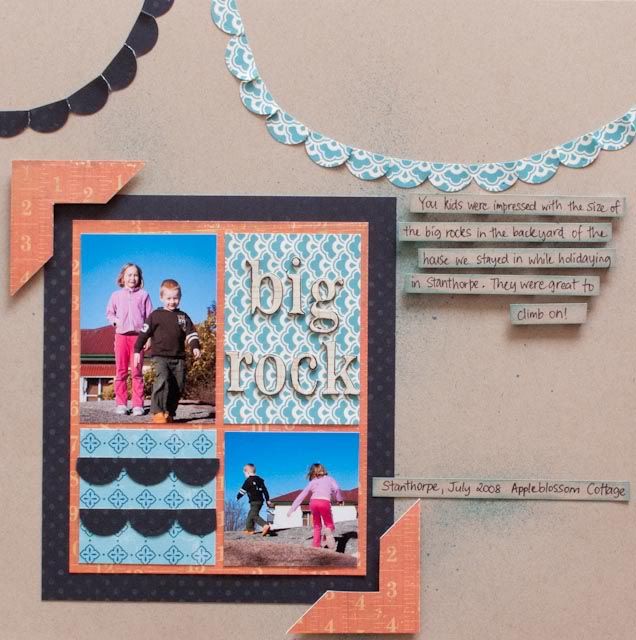 This next page was one I started at a crop of old Scrapbook City girls last week. Ang gave us a challenge to create a "patty cake wrapper flower" from a U-Tube video she found and I have to say I kinda liked how it turned out! I added a punched retro flower and checked brad to finish it off, but what an easy way to make a cool flower! I also used some gorgeous Studio Calico Mr Huey mist (thanks Ang, might need some of my own!!). Other than the flower the layout is a pretty simple page, also scrapping older photos!
So, there you have it. Not much else going on at the moment. Niamh turned 12 back on the 9th. I am a mother of an almost teenager now and I can tell! The roll of the eyes the huffing and grunting.... The joys I have to look forward to for the next few years! Erin is 10 on Monday, so life is busy with birthdays and cakes and presents.
Liam and I did do a rather long walk around the neighbourhood last weekend and I took some more photos to show post flood recovery. The most interesting one is the painted mark on a gum tree on the street behind us. The mark is simply bright pink with "2011" written above and it shows how high the water came there. With Liam under the tree for reference (and he is about 130cm tall) you get a real feel for how much water there was behind us and how close we came to experiencing water first hand.
Til next time.
Katie